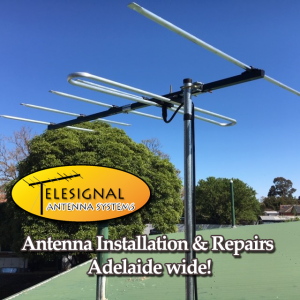 Telesignal Antenna Systems is a family-run company and we specialize in digital TV Antenna installation & Antenna repairs in Adelaide. Our fast and reliable service at affordable prices means you will be watching high quality TV and entertainment from your home sooner at a price that won't damage your budget.
Our TV antenna services include:
TV antenna Supply and installation
Extra TV Antenna points or extensions
TV amplifiers and boosters
Reception repairs and troubleshooting
Home theatre setup
Wall mounting TVs
TV modulators for additional television sets
DVD and Blu-ray setup
Quality Home Entertainment Setups
We'll set up your home theatre to give you the best of TV right in your Home. We can set up speakers and wall mount TV's to have your Home Entertainment just as you want it. We'll install your Audio amplifier and give you a surround sound experience that will have you think you are in a cinema down town, all with the luxury of being at home with the coffee and snacks just in the other room.
We only use high quality Trusted Brands
We'll provide receipt on purchase with manufacturers warranty. If you have a problem arise within warranty time you can rest assure that your product is going to get fixed.
Fast & Affordable TV Antenna Service Adelaide wide
Most jobs are carried out on the same day, including antenna installation & repairs, where we can go the extra mile for our customers, covering "all areas of Adelaide" including a broad area of Metro Adelaide, Adelaide Hills, Gawler, Barossa and Yorke Peninsula.
Our 3 step Process Ensures you get the best result for your specific needs
Analysis: We'll Inspect your current set up and using industry safe tools so we can determine whether the problem can be fixed or if you need a new system set up!
Implementation: We'll then repair or install your TV System using best safety measures as well as install for you state of the art high quality Antenna & Entertainment Systems.
Result: We'll then hand over to you fully enhanced TV quality to give you the entertainment solution you wanted from the start.
But Don't Just take our word for it.
Here is what real customers had to say about our service..
Smart customers want smart deals
Our smart deals include a full quote breakdown so you know exactly what you are paying for and we accept Cash, Cheque or EFTPOS. What's more,  you don't have to pay a cent until the work is done and you are happy. Now that's what we call a smart result!
Call us on 0417 809 403 or "contact us online" for a quick, honest and fair quote.